B.I.G - Biometric Intelligent Glasses
B.I.G. Vision® from Rodenstock creates a paradigm shift in varifocal lenses by taking the unique shape and size of each eye into account.
The manufacture of spectacle lenses based on the individual data of your eye creates glasses that enable you to see sharpest.
Rodenstock determines the biometrics of the whole eye. This includes the length of the eye and several thousand data points - this is unique in the industry. All relevant biometric data flow directly into the lens production - on this basis, you can manufacture lenses that are precisely fitting to the micrometer. In this way you can determine the center of sharp vision for each individual eye.
We call these glasses B.I.G. - BIOMETRIC INTELLIGENT GLASSES.



Every eye is unique.

Until now, rigid thinking has dominated the world of progressive lenses. An attitude that relies too little on the measurement of the eye, only sets a one-sided focus and only partially understands how our brain works.

The optics industry has contented itself with only looking at the eye using a reduced standard model - and not seeing each eye individually. This attitude has led to 98% of progressive glasses wearers using lenses that do not fit their eyes perfectly.

The length and shape of the eyes are just as individual as the people themselves - and the focus of the eyes also varies. In order to still enable the sharpest vision, spectacle lenses would have to be calculated using precise data from each individual eye. So far, however, all progressive lenses have been manufactured on the basis of a static, reduced standard eye model.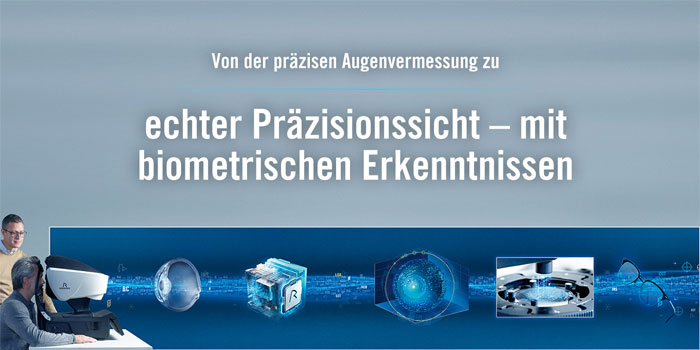 Six steps to B.I.G Vision
DNEye® Scanner
We will measure the dimensions of each individual eye with the DNEye® scanner.

 
Creation of the biometric eye model


With the help of the data sets, a precise biometric model is generated for each individual eye. 

Measurement of individual parameters of the eye
Your eyes are measured to create an exact image that is used in the manufacturing process.

 
Digital data transfer in glass production
The biometric eye model is used as a template for lens production and is digitally transferred to production. Each glass is custom-made according to the biometric parameters.
Calculation of the biometric data set of the individual eye
We send the measurement data to Rodenstock, where patented calculation methods are used to develop a biometric data set.
 
Biometric glasses At the end, you will receive your new biometric varifocal glasses - in just a few days.
 

Become a part of B.I.G. vision®
The result speaks for itself. A survey of 283 customers shows the enormous success of B.I.G. Vision®. She demonstrated that the use of a complete biometric eye model to manufacture individual lenses significantly improves the viewing experience.
| | | | | |
| --- | --- | --- | --- | --- |
| | | | | |
|   |   |   |   |   |
| 92% see more clearly than before | 88% experience greater visual comfort with their DNEye® optimized glasses than with their old glasses | 84% see more contrast | 80% see better at dusk | 87% report a shorter settling-in period |